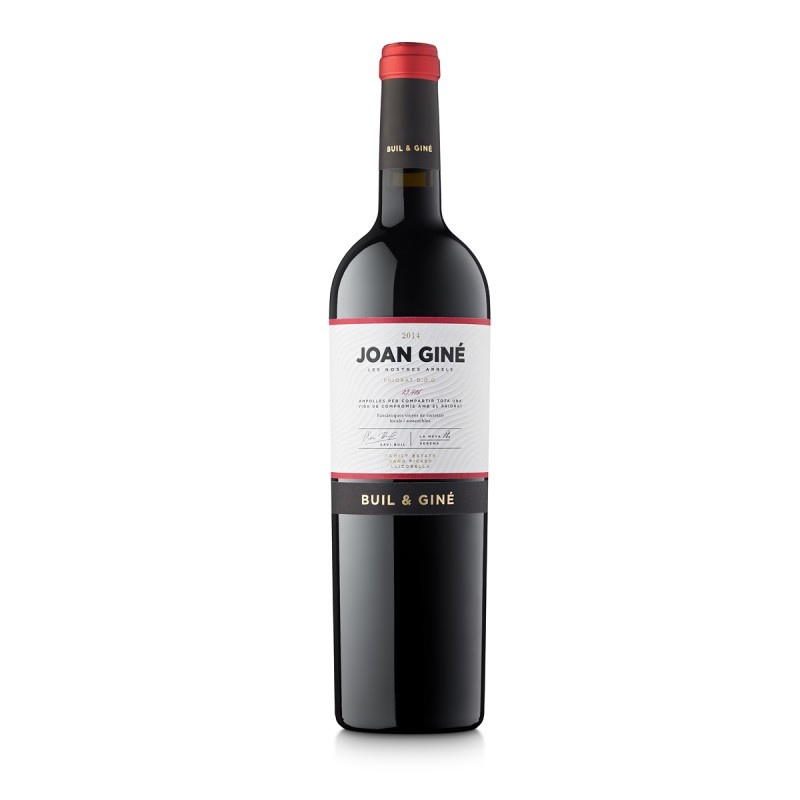  
Joan Giné 2014
Elaboration: The different varieties, which come from selected vineyards with low production, are fermented separately at a temperature between 26 ºC to 28 ºC carefully controlled. Maceration is long (24 days approx.), followed by the malolactic fermentation. Afterwards, the varieties are mixed and the resulting wine is placed in French and American oak barrels during the next 12 months. During this time, the temperature is controlled at 16 ºC. Once this process is completed, the 'coupage' and the bottling are carried out. 
General characteristics: Dry red wine, complex, with the ripe grape bouquet typical of the Priorat Grenache and Carignan varieties.
Recommendations: Drink at temperatures between 16 ºC and 18 ºC, up to 20-25 years after elaboration. 
Grape varieties: 45% Grenache, 40% Carignan and 15% Cabernet Sauvignon or Merlot.
Type of soil: "Llicorella" (slate from the Carboniferous Period).
Origin: Grenache and Carignan from old vines (more than 25 years), Cabernet Sauvignon from young vines (from 10 to 15 years), from the villages of Bellmunt del Priorat, la Vilella Alta, Gratallops, Torroja, La Vilella Baixa i El Molar.
Alcohol content: Between 14% and 15% by vol.
Pairing: Well-structured, persistent, full-bodied and voluptuous wine, with a long ending. It combines well with red meats and in general with foods with high protein content. Also with certain cured cheeses and foie. Most recommended cooking methods: casseroles, stews and preserves. Also with sauces with a bitter touch (orange, bitter almonds, even dark chocolates).
Awards:
•   Wine100 China 2019, Gold Medal, vintage 2013.
•   Asia Wine Trophy 2019: Gold Medal, vintage 2015
•   Tasted 100% Blind by Andreas Larsson: 93 Points, 2015 vintage.