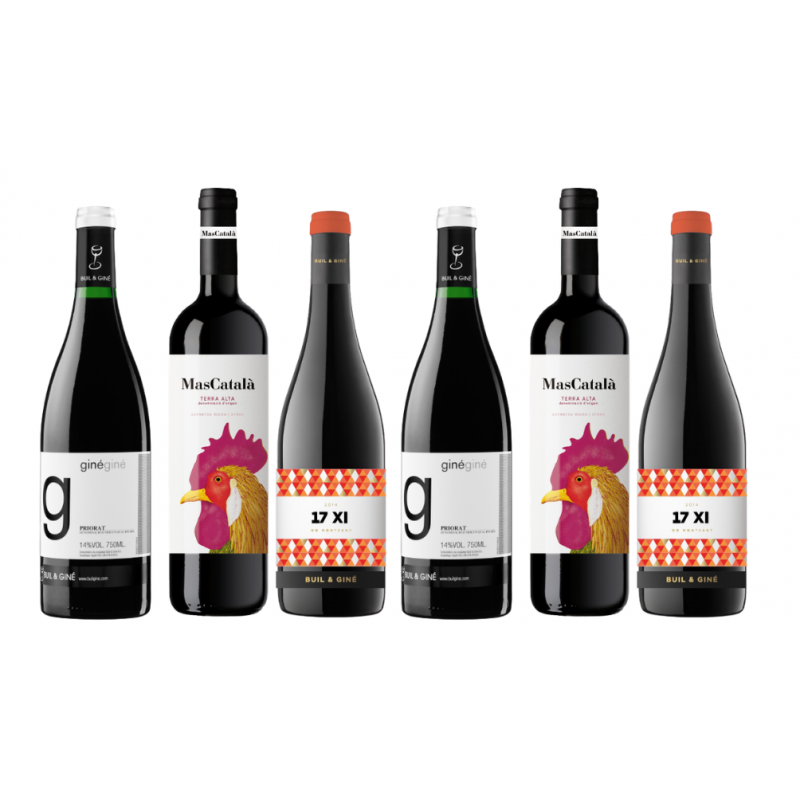  
WINES FROM THE LAND
2 bottles of 17-XI 2017 (DO Montsant) 
2 bottles of 
Giné Giné 2008 (DOQ Priorat) 
2 bottles of 
Mas Català 2017 (DO Terra Alta) 
17-XI 2017 (DO Montsant)
Versatile and pleasant, this Montsant combines with almost everything!
Dry and complex red wine, at the same time easy to drink. Soft, with an aromatic and fresh wood. With the Grenache, Samson and Tempranillo varieties.
Recommended with white meats, salads, goat cheeses, soups, sausages and mushrooms. Also rice with any accompaniment.
Wine & Spirits 2015: 90 points in the 2012 harvest (Best Buy) and selected in the "2015 Year's Best Catalan Wines"
Mundus Vini 2016: Gold Medal at the 2014 harvest
Giné Giné 2008 (DOQ Priorat)
A young wine, without wood, from the year 2008 !! It will surprise you!
Dry red wine where the aromas of ripe grapes are appreciated at the same time as fresh. Very fruity. It is characterized above all by its enormous versatility.
It combines very well with foods with floral touches, with aromatic herbs, pepper, with anise or cinnamon, balsamic, toasted or pastry touches. Also with meaty and strong fish.
International Wine Challenge 2010: Silver Medal at the 2008 harvest.
Mas Català 2017 (DO Terra Alta)
Dry red wine with aromas of ripe red fruit and toasted and spicy final notes.
Fresh and very versatile. Combine with all kinds of food, especially pasta, salads, meaty fish, rice and mushrooms.
You might also like