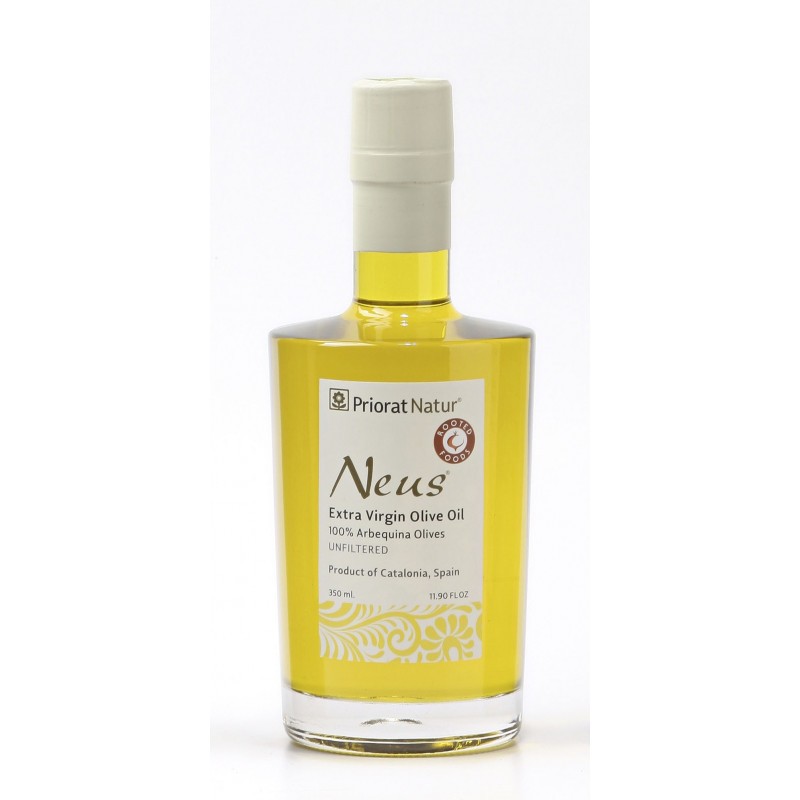  
Neus extra virgin olive oil 350ml.
IDEAL FOR... high-quality dishes, salads, fish, meat, sandwiches or dipping.
Neus is a fruity and buttery olive oil that will make your food taste incredibly! Its intensity combined with its sweetness  results in a diverse variety of aromas such as banana, apple,  tomato and nuts, 
100% Arbequina olives are used to create Neus, which is extracted via cold pressing and purified through a decantation process. Each bottle contains generations of traditions and experience, and is a tribute to the people of the Priorat Region, and in particular to Neus de Mas Callot, the grandmother of the company's founder.
In fact, the name "Neus" means "snow" in catalan, attesting to the purity of this unique oil.
INGREDIENTS: 100% Arbequina Olives from our fields.  HAND PICKED OLIVES   
UNFILTERED -  COLD PRESS  
NO GLUTEN    NO OGM
100% natural product. No preservatives or artificial flavors.
Acidity: 0.1%      
Presentation:  350 ML clear hand-blown glass bottle -  500 ML dark glass bottle.
Shelf life: 18 months. 

Storage instructions: For good conservation; keep away from direct natural light and hot situations.