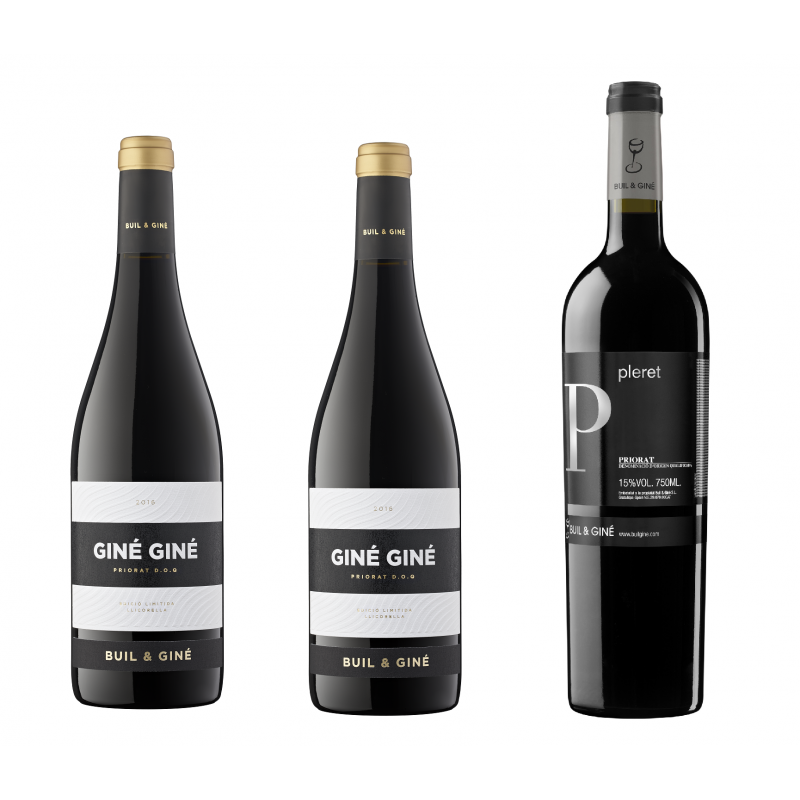  
3 AWARD-WINNING WINES
PLERET 2012 - DOQ PRIORAT 
Centuries of tradition and knowing how to share and enjoy "a pleret". Centennial vines and the honor of havie received this unique heritage. The authenticity of the Priory is essential.
GINÉ GINÉ 2019 - DOQ PRIORAT 
Dry red wine, with the ripe grape bouquet typical of the Priorat Grenache and Carignan varieties
Pleret 2013 and Joan Giné 2015 have received awards in the "Premis Vinari dels Vins Catalans 2022", the Annual Awards on Wines of Catalunya. BUIL & GINÉ's Pleret 2013 has received a Gold Medal, "Vinari d'Or", in the category of age-worthy red wines and Joan Giné 2015 a Silver Medal, "Vinari de Plata", in the same category.
This "Vinari d'Or" Award adds to other recognitions given to this vintage, an excellent one in the Priorat region. As such, Pleret 2013 has received 95 points from French Gilbert & Gaillard, a Gold Medal from Germany's Berliner Wein Trophy and 92 points of Spanish Peñín Guide 2022.
GINÉ GINÉ 2019 has been featured amongst the World's Top 100 wines for 2022 and a Best Buy by renowned Wine & Spirits. Having obtained 92 points, our GINÉ GINÉ repeats mention, being also 2018 vintage included in this Top 100 World Selection. Also to be considered is that GINÉ GINÉ is the only wine under the Priorat Qualified Designation of Origin shortlisted by the Wine & Spirits panel and critics, from a blind taste of more than 11,000 wines from around the world.
As such, WINE SPECTATOR has recently scored 90 GINÉ GINÉ 2019: "A well-balanced, medium-bodied version, offering flavors of wild strawberry and cherry fruit, red licorice and a touch of loamy earth backed by fresh citrus peel acidity. The lightly chewy finish reveals milled pepper and thyme. Cariñena and Garnacha".
GINÉ GINÉ has also received a Gold medal from Germany's Berliner Wein Trophy and Spanish Peñín Guide 2022 has given it a score of 91 points. To keep in mind also is the Gold Medal received by Mundus Vini – Meininger Verlag earlier this year, being GINÉ GINÉ 2019 selected Best of Show Priorat.