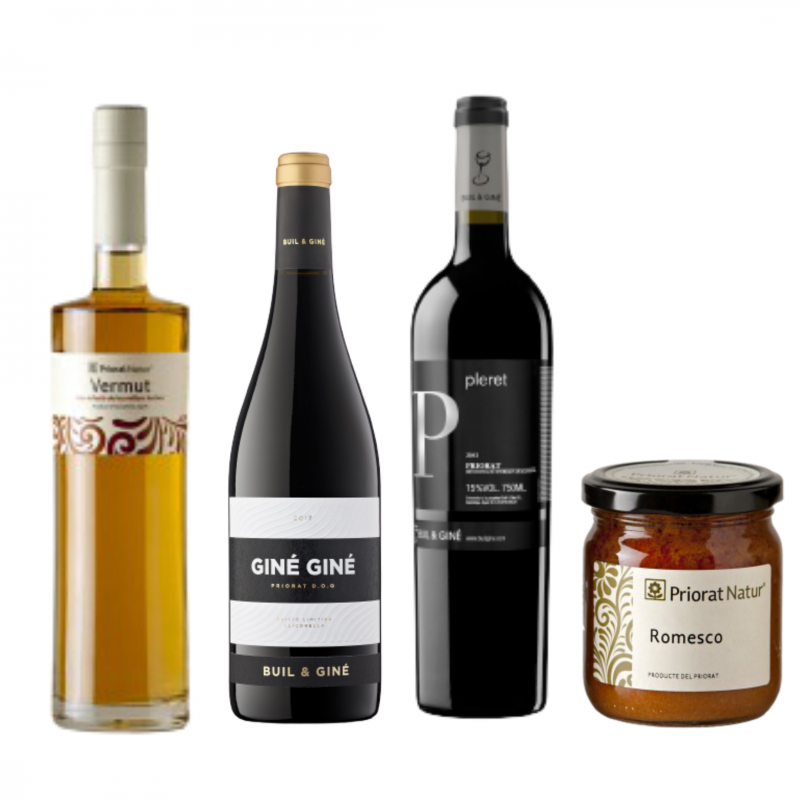  
Lote Calçotada
VERMUT PRIORAT NATUR


IDEAL FOR ... take as an appetizer before a meal, it can be accompanied with olives, salted or toasted nuts. It also goes very well with fish and seafood dishes. And if you like sweets you can have it for dessert to accompany a chocolate cake.
Consume it cold. You can take it alone or with ice and a little orange or lemon if you prefer.
This is a real vermouth, a vermouth reminiscent of a lifetime, but finer and more elegant. It is intense, aromatic, sweet and has a bitter touch at the end that gives it freshness. It is ideal for an aperitif while roasting calçots.


Giné Giné 2018 (DOQ Priorat) 
Dry red wine where the aromas of ripe grapes are appreciated at the same time as fresh. Very fruity. It is characterized above all by its enormous versatility.
It combines very well with foods with floral touches, with aromatic herbs, pepper, with anise or cinnamon, balsamic, toasted or pastry touches.
I like to drink it with a jug while we eat the calçots!
ASIA WINE TROPHY 2018: Gold Medal.
WINE & SPIRITS MAGAZINE, October 2018: 92 Points.
WINE SPECTATOR, October 2018: 90 Points.

Pleret 2012 (DOQ Priorat) 
Dry and complex red wine due to the combination of aromas extracted from grapes and barrels. With an amazing aromatic power.
Very elegant, mineral and structured wine. Can be combined with both meat and fish, salads with berries, jams and soy. Also with non-citrus and rather sweet desserts such as nougat, coulants, etc.
I like to decant it and take it with grilled meat after calçots.
WINE & SPIRITS MAGAZINE, October 2018: 92 Points
MUNDUS VINI 2019: Gold Medal. Best of Show Priorat
GILBERT & GAILLARD 2019: Gold Medal with 95 points
Romesco Priorat Natur 
The perfect sauce to accompany the calçots! It can also be combined with vegetables, seafood, fish and meat.
Enjoy the romesco that has been made following traditional recipes from the region. Like what is made at home! With 100% natural products from our territory and of the highest quality. An authentic romesco, with intense color and flavor and a grainy texture that makes it ideal to combine in very different ways.